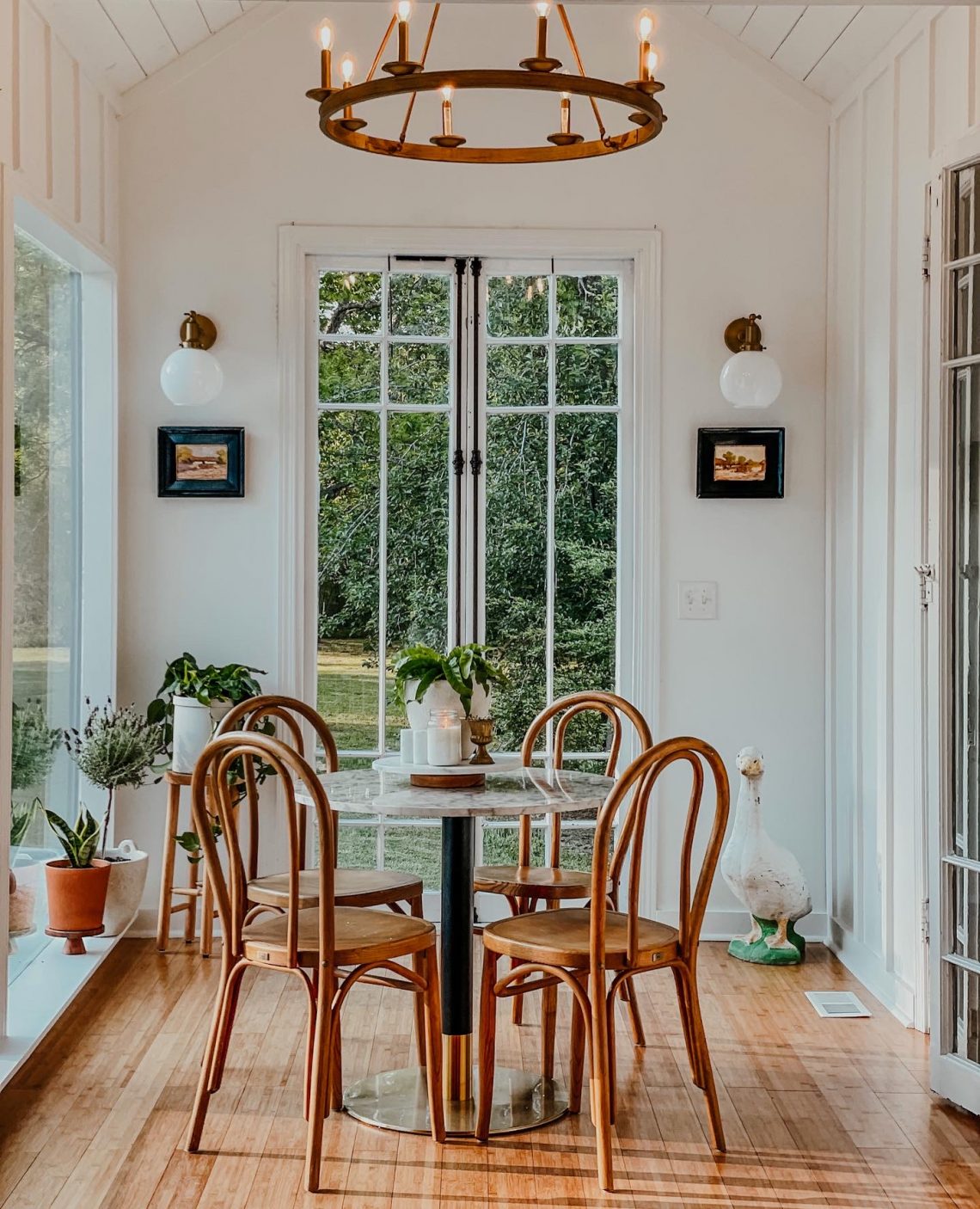 Breakfast Nook Decor & Steps for Styling a Space
We finally decorated our breakfast nook, and I've been so excited to share it with you all! We designed this small yet charming room ourselves with dreamy picture windows and vaulted ceiling. One of my favorite things about the space is the sunlight that shines through, especially during the late afternoon and early evening. It's the perfect spot to come together and eat! I've been excited to find the perfect artwork, so while on vacation, we stopped at a quaint antique shop in Mobile, AL and there I found the perfect pair of antique artwork for this space. From that moment on, it all came together! 
Below I'm listing the four steps I follow for decorating a space like this one! As long as I do these four steps, I can turn any room into a lovely spot in my home. I hope you'll try this system out because it truly works!
1. Clean Slate 
This is likely the most import space in your home, so you will want to edit out all of the "extras' in the room. You want to start with a blank canvas as a painter would! Having lots of things out while styling can cloud imagination. 
Speaking of clean, this is a great opportunity to CLEAN the space! All the way from the light fixtures to the baseboards! There's nothing like decorating a clean room! 
2. Statements Start
The paintings that I got from the Antique Store in Mobile, AL are small but statement-makers! The black frames really anchor the room. 
After cleaning, start with any statement pieces. Extra furniture pieces, rugs, etc.! I used a marble lazy susan and a hurricane fern plant as the centerpiece on this little table. 
3. Something Unexpected 
I always add something of interest or something unexpected! Over the years, I've done this in many spots. For example, an old mantel on the porch, a concrete lady statue in the dining room, and an old 4ft basket on the island in the kitchen. 
It never fails! this step always makes me pause and wonder if I've lost my mind. But all the while, it's a piece that makes me smile or starts up conversation! 
In this breakfast nook, I used an old concrete goose in the corner! The goose is totally random but brightens the room in the best way! 
This step is the time to showcase those treasures that are one of a kind vintage finds! 
4. It's in the Details
Add in the final details. This step is very important. Add a candle, beautiful salt and pepper shakers, a small plant, a framed picture of your family, fresh dog bowls, etc! 
These final details are what makes a space look and feel like home! This step is the best!