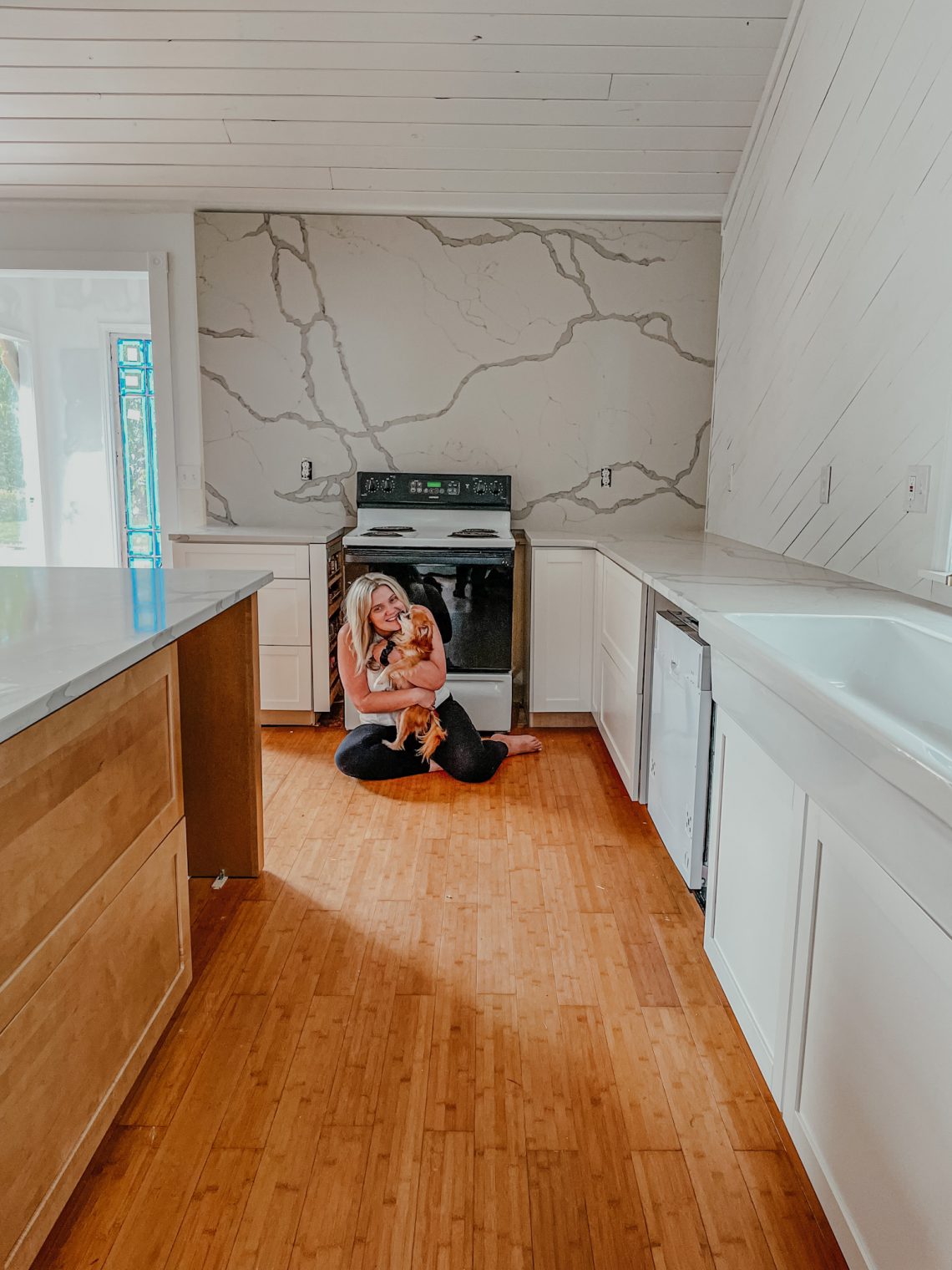 Today was a big day! Our backsplash was installed in the kitchen. I've been dreaming of this for awhile now. I wanted a slab of quartz to climb the wall from counters to the tongue and groove on our ceiling.
For some reason I had a hard time envisioning tile or wood for a backsplash behind the range. I told Aaron, "I just picture a big ol' slab of something.." So we decided to ask the company who installed our counters about it! 
This is quartz. It's the exact same as what we have on our countertops. I originally wanted marble in the kitchen but we were advised countless times to stay away from marble in a kitchen. Honestly I think good quartz looks just as good as real marble. The quartz we chose is modeled after Carrara marble! The local store we bought this from has so many beautiful options.
Please keep in mind this wasn't a DIY! Aaron and I have done several DIY backsplashes in this house… everything from faux brick panels to "skinny-lap", but this one isn't a DIY. This was cut by a professional and installed by a professional. It's crazy heavy to lift! They said they attached it with some sort of silicone.  Very interesting to watch the teamwork that went into this whole process! 
Okay, the price of things is what I always wonder about so I'm gonna share the price with you! For this slab of quarts and the labor, our backsplash was 3k. I know that's on the pricy side for a backsplash but it's a HUGE statement in kitchen. Again, this wasn't a DIY so… it wasn't a DIY price. 
If you love this look but want to watch the budget, other options would be real marble or granite. Both are normally cheaper than quartz. We went with quartz because it's what was best for our countertops and we wanted the climbing backsplash to match. This isn't sponsored, but I'm happy who we worked with! Locals, Deep South Granite in Opelika, AL was wonderful to work with.