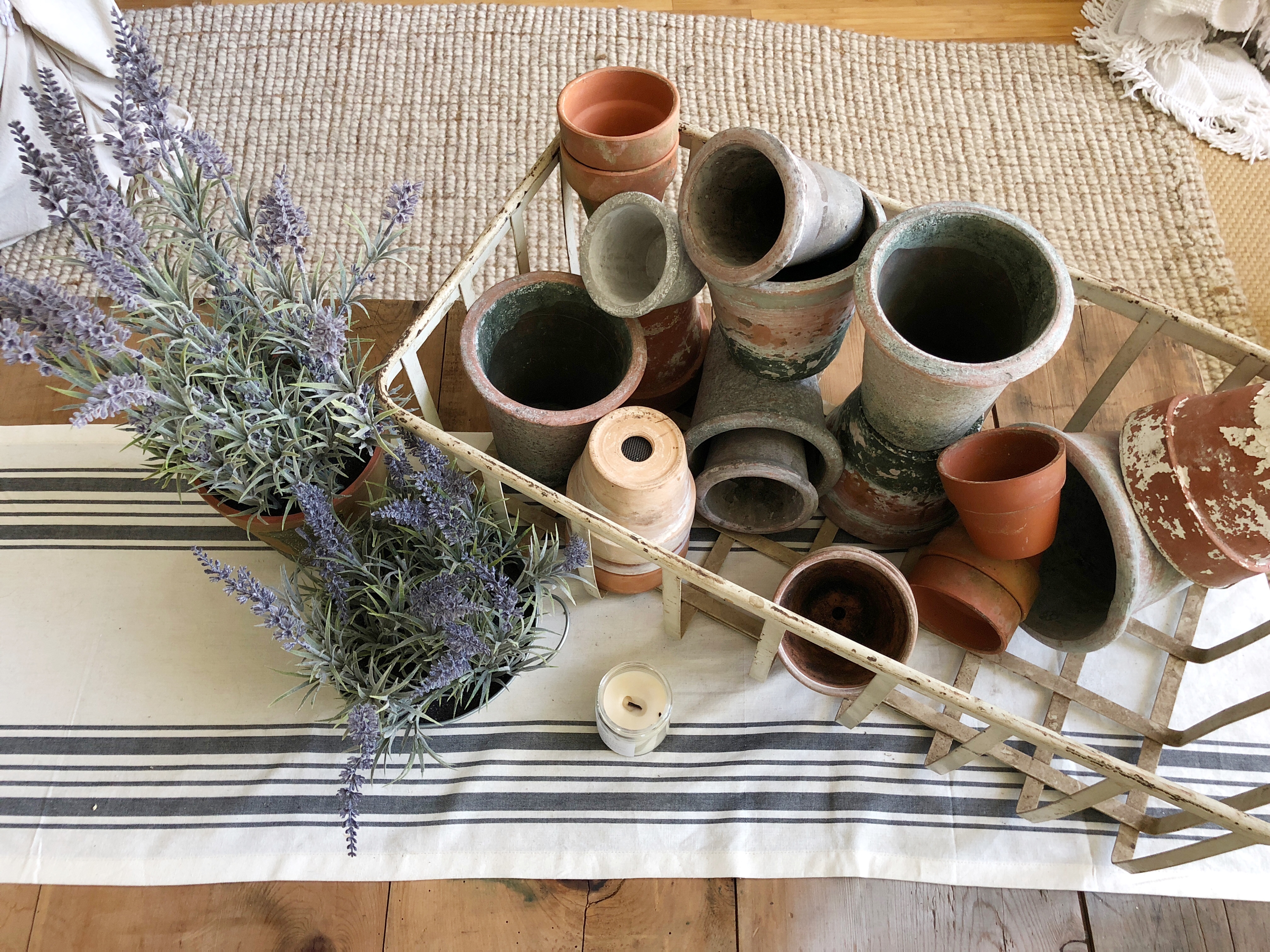 I'm writing this blog post as requested, finally!! It's long over due.
As I've mentioned in previous blog post, used terra cotta pots are one item I look for while picking. I love how these pots age over time.. especially if someone had previously splashed a little paint on them that has begun to get "chippy" over time.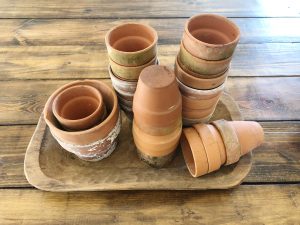 You can also find "faux used pots" at Hobby Lobby.. Wait until they're 50% off before purchasing though.
I've been asked how to style these on many occasions. I have several SIMPLE ways of styling them. I've used each of these ideas in my own home.
1 – Gathered Pots
This is oh so very simple. Find a metal or wicker basket and drop some used pots in the basket. Arrange them as if they just sorta naturally "fell" into place while you were outside gardening.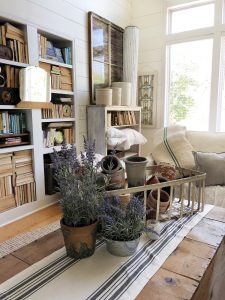 I stumbled upon this effortless style by accident. About a year ago I purchased some old pots an an estate sale. The kind sellers gathered them in a cardboard box and handed it over to me. Seeing these pots jumbled around in the box immediately brought me inspiration. After getting home, I simply swapped boxes – exchanging cardboard for metal.
I love the warm natural earthy tones this look brings to any room. I've done this in the kitchen, living room and dining room.. oh, and let's not forget the porch.
2 – Kitchen Herbs 
Every kitchen needs fresh herbs. We have herbs sitting in the window sill above our kitchen sink. (Random note – I need to purchase a few more)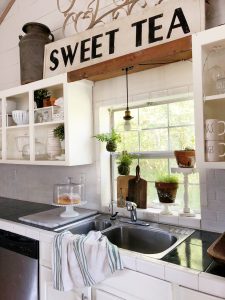 For these herbs I used some old clay pots and it looks cute! The potted herbs are resting on white pedestals to add a little height.
(Btw – here's some links of pedestals I love.)
3 – Hanging Macrame Planter
This is a newer addition in my home! I've quickly fallen in love with hanging macrame planters. Add an old clay pot to the textured hanger and you'll be surprised where you can use this look. For example, I have a couple of these hanging under my fireplace mantel.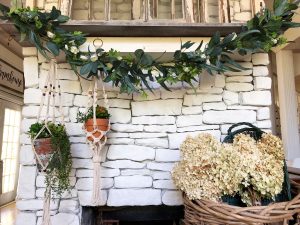 My favorite place to purchase these plant hangers is World Market!
Alright, so here's a few ways you can style terra cotta pots. I really hope you enjoyed this post! Thanks for reading!!
Karlee Bowman