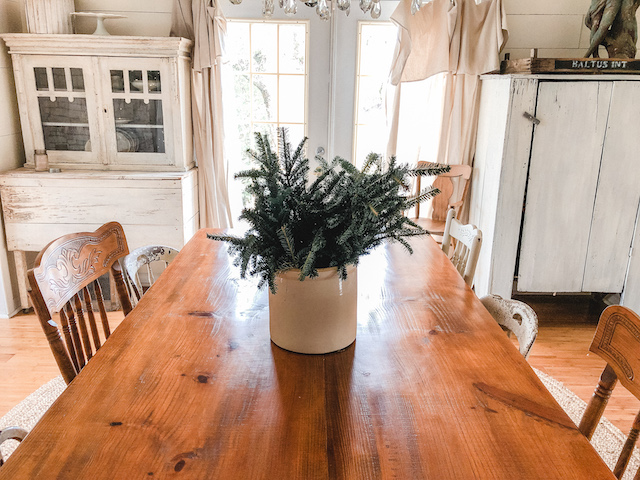 I'll admit I've never really decorated our home for Winter until this year. I found this little transition of Christmas to Winter to be fun. I kept things VERY simple and spent zero cash.
I think it's okay to keep out some of your Christmas decor but here's my tips – eliminate the red and switch up where you had certain items. For instance, the thick knit garland around my tree is now being used on this book shelf. I also reused the white glitter picks from my Christmas tree. I feel that both of those items scream cozy winter.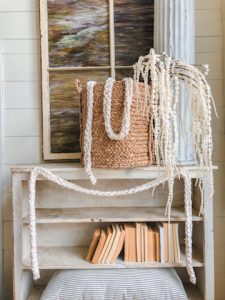 Along with keeping out my garland, I kept out a little faux tree. I simply changed it up by sitting it in a galvanized bucket. Pine is winter-ish, right? Now I have a little green without rushing straight into Spring.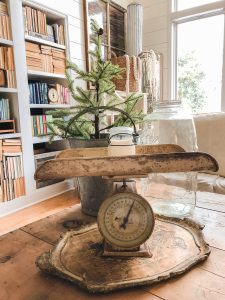 Speaking of winter pine, I clipped some fresh pine from our Christmas tree and added it to a vintage crock on our farm table. Ummmmm, free!!! So far the little needles are hanging in there. If you do this, be sure to add water to the bottom!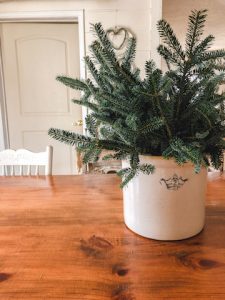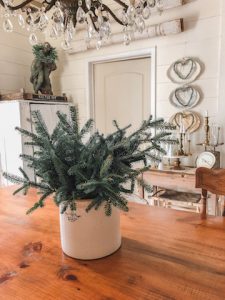 So that's what I did for my Christmas to Winter transition. Check out my recent post – Ahhh, My House Feels Sooooo Empty to see what else I'm up to during this Winter!!