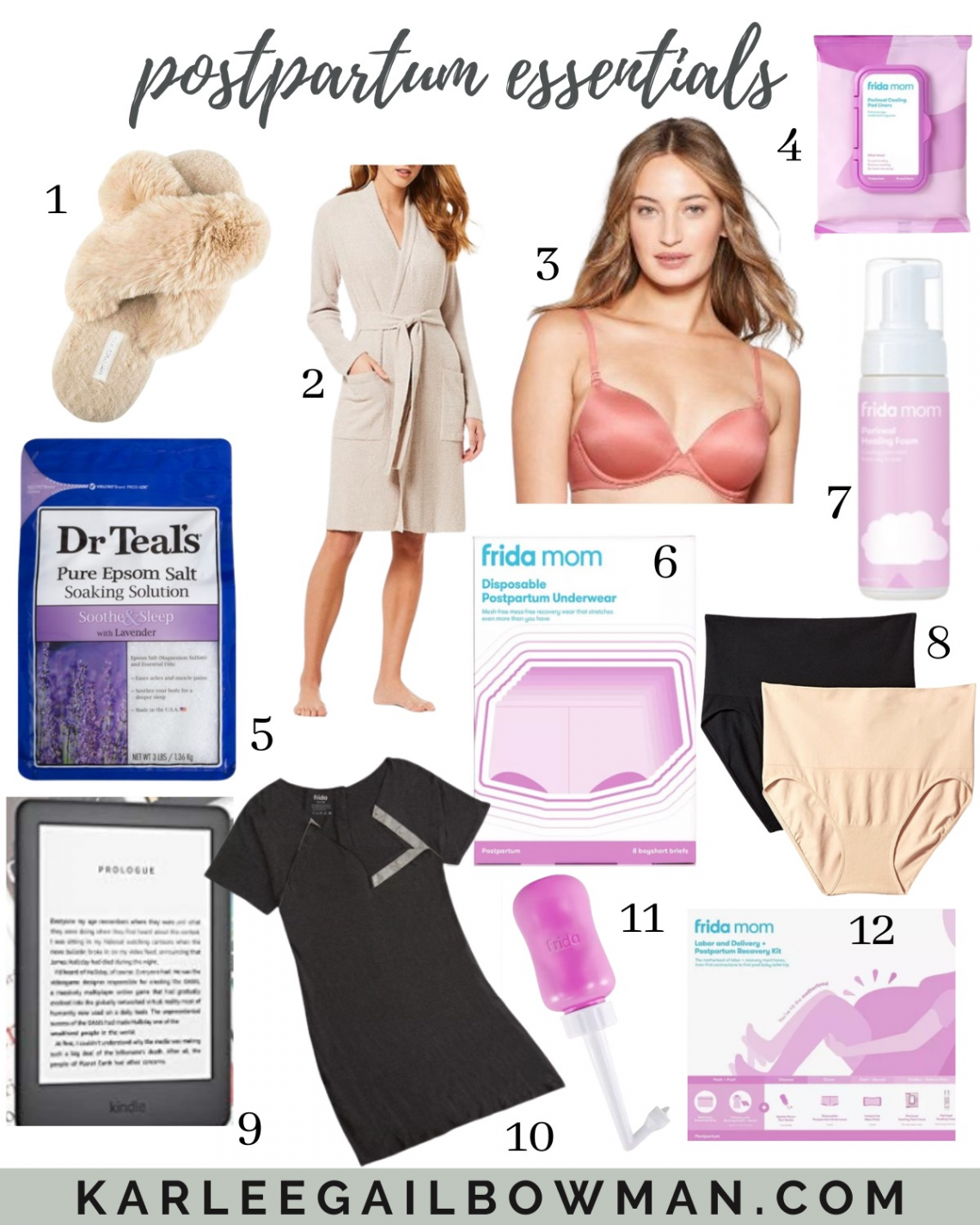 I'm four weeks postpartum and I've had many request I share a list of my postpartum "must haves." Some of these items were lifesavers in the days after birth and some of these items I'm still using now! I hope this list helps, little momma!!
1- Slippers
Cozy must! I ordered these soft plush slippers a few weeks before having Remington. Some type of slippers at the hospital is a must! I really loved (and still do!) these!!
2 – Robe
Aaron gifted me this robe for Mother's Day the day we went to the hospital. Ohhhh, it was PERFECT! Several IG buddies recommended packing a robe in my hospital bag and they were correct. I changed into this robe, a nursing bra and leggings hours after giving birth. This combo was practical, modest (yep, I was sick of showing all by then!) and comfy! This was also wonderful to have those first few days at home when people are in and out of the house meeting the baby! I still wear this robe almost every morning. I'll enjoy it for many years! 
3 – Nursing Bra
I'm a DD 36 and I have only worn one brand of bra for years. I'm extremely picky about support. I bought several brands of nursing bras and this bra by far has been my favorite. If you're nursing, you will need more bras than you normally have. I wish someone had told me this before having Remi! I would have been more prepared!  Spilled milk happens and keep in mind you will have to wear one 24/7. Oh and you will likely get behind on laundry. Newborn cuddles are way more fun than doing laundry. 
4 -Frida Mom Perineal Witch Hazel Cooling Pad Liners
The hospital will give you things for "down there" but these cooling pad liners came in Hospital Bag Essentials Complete Kit (linked/talked about below) They're very similar to tucks pads (which the hospital provided) but larger. Place them on your pad for some cooling relief. I used these after coming home from the hospital. I preferred them over the tucks pads. 
5 – Lavender Epsom Salt
I always keep Lavender Epsom Salt in my bathroom. My doctor said it was safe to use after delivery. My body had been through a lot and I found a warm bath of Lavender Epsom Salt relaxing. 
8 – Postpartum Panties
I'M STILL WEARING THESE! My friend gave me these postpartum panties. I loved the tummy support so much that I ordered more. Now they're pretty much all I wear. I packed these in my hospital bag (my BFF told me to do this and she was right!) and I put them over my disposable postpartum panties. After a baby, your tummy feels very loose. The support of these panties made my tummy feel much more secure. Even now these make my tummy appear much flatter. I find these to be very comfortable. I even sleep in them. 
9 – Kindle
I brought my Kindle to the hospital but didn't use it. However, I use it all the time now. Late night feedings can feel lonely so I spend the time reading! 
10 – Delivery Gown
A gown is provided by the hospital. In fact, it was the first thing they did when I walked in the room – hand me an old faded not very soft hospital gown. I was SO GLAD I brought my own delivery gown. 
This gown snap opens down the back for the epidural and it snap opens in the front for skin to skin. Other than that it feels like a comfy night gown. Several nurses commented about how nice and soft it was. I was SO GLAD I had it. Delivering a baby isn't a quick process. I was thankful to be wearing something I felt comfortable in. Mine came in the Hospital Bag Essentials Complete Kit.
11 – Upside Down Peri Bottle 
Again, the hospital provided a bottle but this one was shaped so much better. It also came in the Hospital Bag Essentials Complete Kit. It's basically. a portable bidet. Fill this with warm water and you'll feel much cleaner after using! 
12 – Hospital Bag Essentials Complete Kit 
I obviously LOVED a lot of the items that were in this kit. I was so glad I bought it. Rather than shop around for this and that I ordered this and put in my hospital bag ready to go! It even comes with the no slip socks! Some of the items, for example the hospital gown, I used while at the hospital but a lot of these items I was so glad I had once I got home. Truth me – your body will still be recovering long after you leave the hospital. 
If you read this post, you're likely expecting a baby! That is so exciting! This post might seem like a lot but please don't let it scare you. You're gonna be okay! It is scary but not as scary as I thought it would be. Once you get to the hospital you're so focused on having that baby you forget to be scared. Then after the baby comes, you're so in love you would do it 100 times over! Don't be scared. You got this! Hope this blog post helps you, sister!