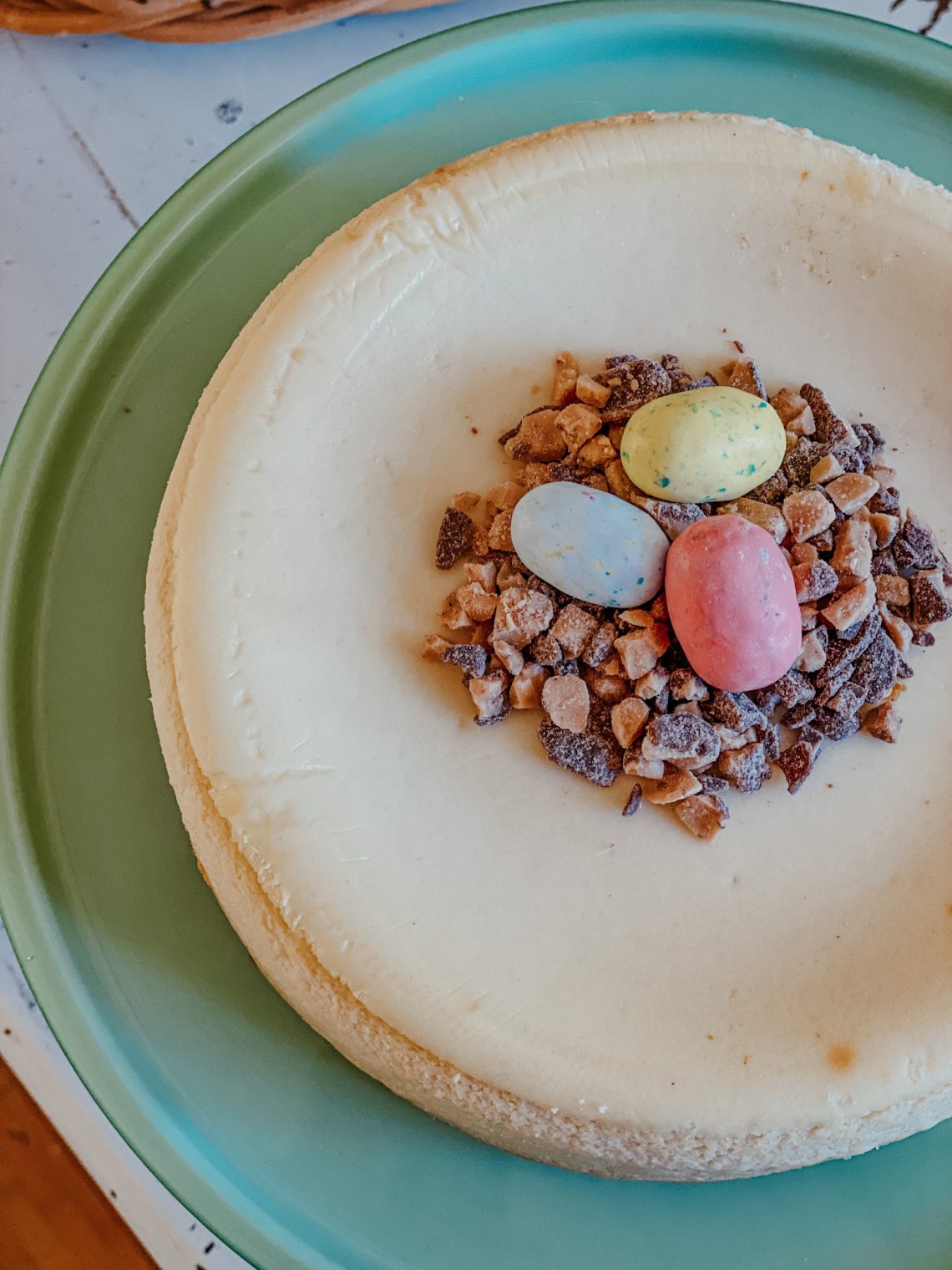 I love Easter weekend! I love when the air is a little warmer and flowers are all around. I love celebrating Easter Sunday with my family! I have wonderful memories of my mother rushing home after church to make a big Easter dinner for our family. She always worked so hard on that meal and it was always lovely. These little memories of my family making holidays special and festive honestly have shaped me into who I am today! I'm so excited to share this festive dessert with you! I hope you enjoy! 
 We can't really call this cooking.. more my making an already made dessert fancy and festive! BUT this little cheat dessert will allow you more time to create memories.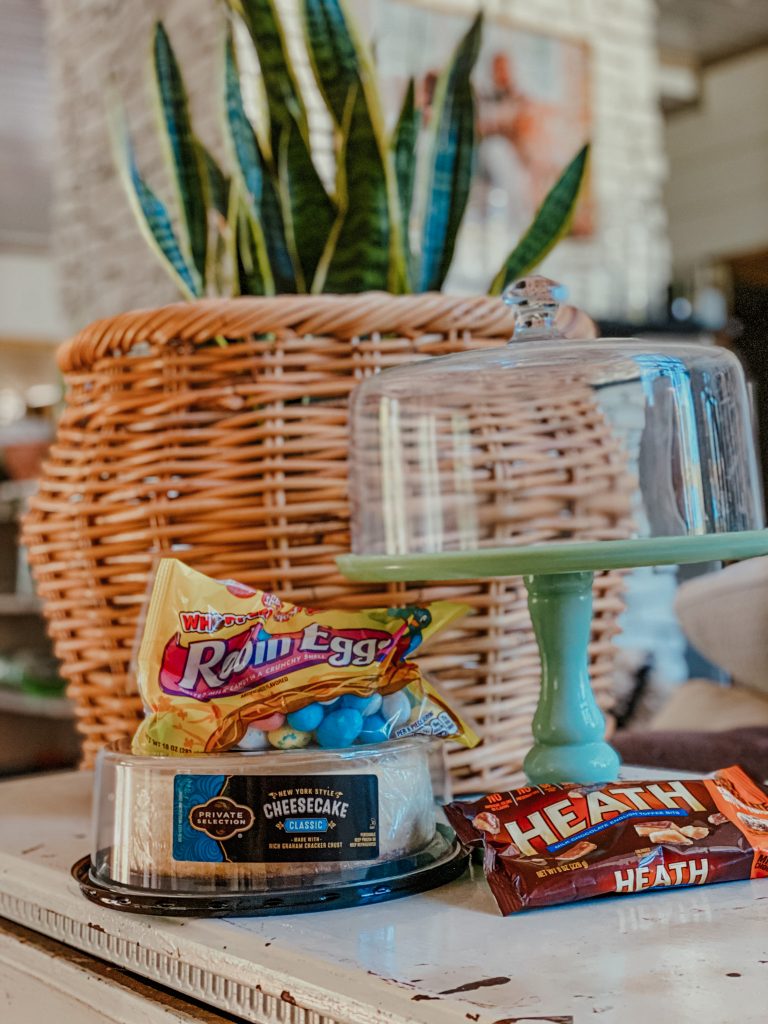 What You'll Need:
Already Made Cheesecake – I got mine from my local Kroger Bakery 
Heath Bits (You could also use crumbled up graham crackers)
Robin Eggs
What You'll Do:
Take the cheesecake out of the packaging and place it on a pretty cake stand. I used my FAVORITE jadeite cake stand. It looks vintage BUT it's not! It's under $30 and I'll link it here!   On this cake plate the family will never guess it's store bought.. It'll be our little secret, girl! 
Next add a little "nest" in the center of the cheesecake using Heath Bits. Again, you could use crumbled graham crackers or even Oreos's! Just make a little "nest" in the center of the cake. 
Add some EGGS! In the center of the little "nest" add a few Robin Eggs! TADA! You've got a beautiful cake! This will take you MAYBE 3 minutes!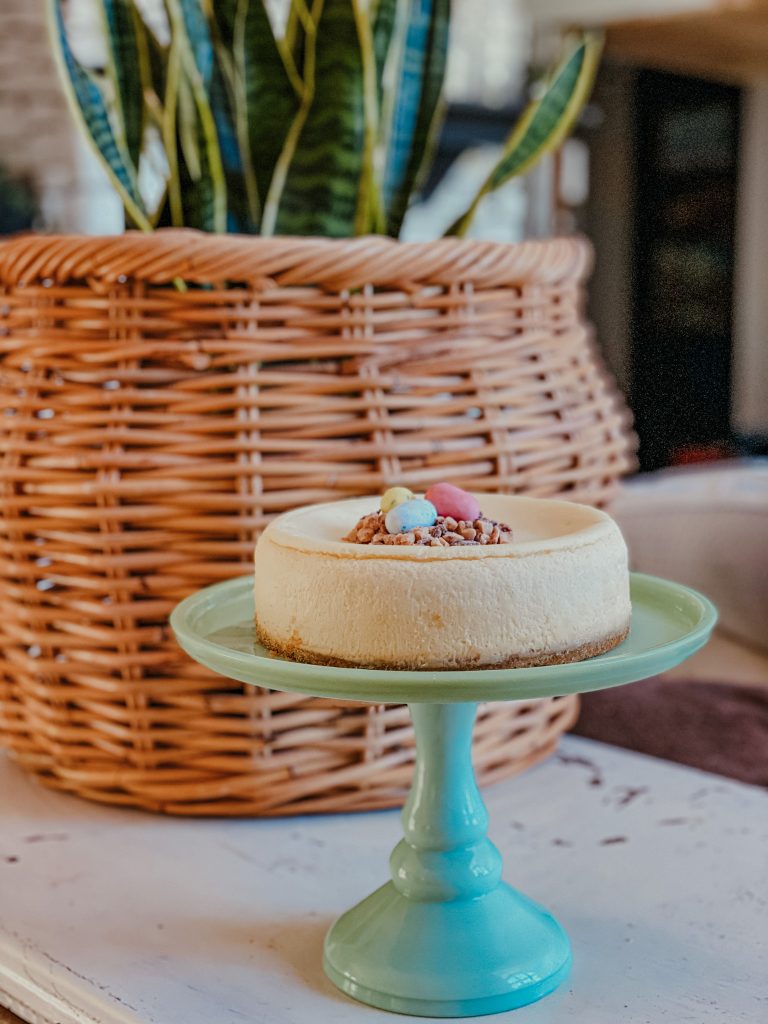 You can make it your own!! Honestly, so many cakes would look sweet with this little nest. A simple carrot cake, coconut cake or even a classic chocolate cake! I personally love the way a cheesecake looks and taste!
This dessert would look ADORABLE as the center piece for your Easter dinner table too! Everyone will enjoy the festive look and yummy taste! Hope you enjoy this post! Thanks for stopping by my blog!!