When a Picker Finds French Provincial
As a picker, I never know where the job will take me or what I'll find. Last week we found ourselves in a small shut down factory town, and we hit a French Provincial goldmine in someone's shed. Yes, someone's shed. Midmonth is not usually when I stock up on inventory but I couldn't pass up this darling dresser. I handed the owner some cash, loaded that baby in the truck and brought her home for some TLC.
Like many of you, I'm a fan of French Provincial furniture. ? No doubt, it makes my heart beat a little faster. (You can totally imagine my emotions during the movie Beauty and the Beast with all that lovely French Detail ?)
Once I got the dresser home I realized the shape was beautiful but the color was awful and it was filthy. ? (I know this pic is dark but it's the only before pic I have ?)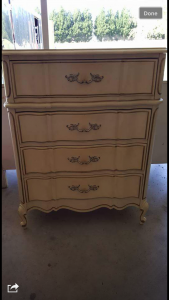 I began scrubbing with all purpose cleaner and then proceeded to painting it with my go to chalk paint which is Old White by Annie Sloan. On a side note – the inside of the drawers reeked with an ungodly smell so I cloroxed the heck out of 'em. ?
After two coats of Annie Sloan Paint, I went in with some sandpaper and LIGHTLY distressed detailed areas. (Picker's Secret – When distressing I go for areas with the most detail ?)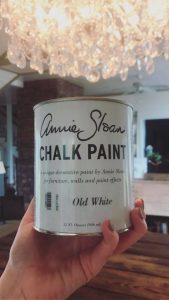 Finally, I began buffing in the Annie Sloan wax. This wax adds a little shine and protects the furniture from moisture.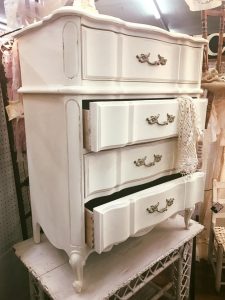 Tada!!? It's styled for display since it's in my vintage shop but you can see the beautiful French detail. To me, being a picker means picking an item in the midst of junk and bringing out it's natural beauty.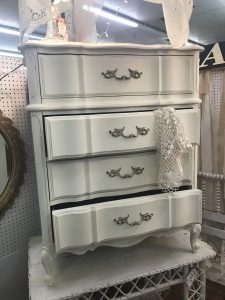 Let me know if you enjoy post about "picking" and "secrets of a picker" ?
Xoxo,
Karlee Bowman