Finally, I convinced my husband open shelving in the kitchen was a good idea .? Open shelves add adorable farmhouse charm!! This project can be done in a bedroom, bathroom or anywhere!! So, I'll get down to the point – Here's how we did it! ?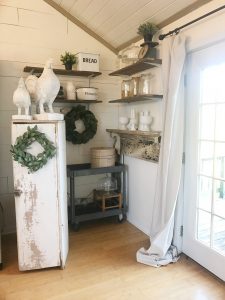 Determine the type of wood
It's no secret I'm a huge fan of repurposing! I fell in love with some old hardwood floors we found at an antique store for dirt cheap, so that's what we used.? You can use old fence wood or pallets… really any kind of wood!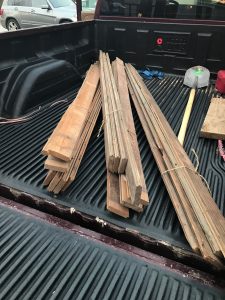 Attach the wood to metal brackets
This is the moment you should determine the exact length you're wanting. Cut your wood to the length you want with a Jigsaw.
We used small wood screws to screw the wood onto the metal brackets. These metal brackets from Amazon are very similar to what we used.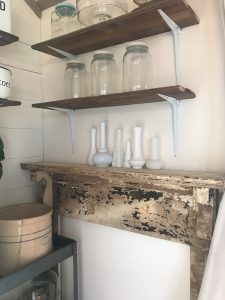 Time to hang
This step is simple but it did take two of us! I placed my hands on the metal brackets to hold it steady while my husband made sure it was level with a leveler. Don't skip this part – No one wants crooked shelves!! ☹️
If you're me at this point, your arms are getting tired, but just continue to hold the shelf steady!!! ? Trust me, it will be worth it. ?
Then my amazing husband popped the drill in and attached these babies to the wall with wall dogs. 
Friends, let's talk about the phenomenal wall dogs. They can hang pretty much anything. ? We always keep at least a few on hand at the house to hang my heavy decor!! Wall dogs are a good investment. ?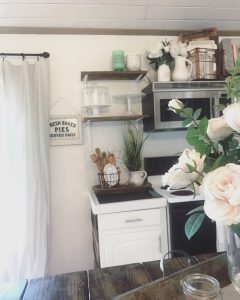 Hope you enjoyed this post! If you have questions, don't hesitate!