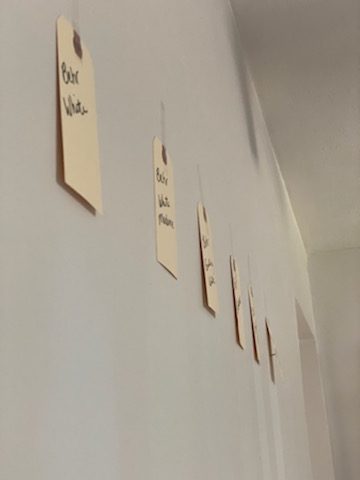 Let's talk PAINT! I recently asked my Instagram followers their favorite white paint colors. Below are the top colors that were suggested over and over. I figured I would share the list with you in case you ever need to a good white paint color! Hundreds of you suggested these colors over and over! 
Top White Paint Colors Suggested:
SW Alabaster (This was a TOP PICK)
SW Pure White 
BM White Dove (Love this color! It's in our kitchen)
BM Chantilly Lace
Behr Swiss Coffee (This was a Top Pick)
Behr Gallery White 
BM Simply White  
SW Greek Villa 
Behr Polar Bear 
Magnolia Silos White 
Now this list below are colors I tested on our wall! These pictures are 100% unedited! The wall they are tested on is Cameo White by Behr. 
Colors I Tested:
White by Behr 
Behr White 
Behr White Moderne 
Behr Gallery White 
SW Alabaster 
SW Greek Villa 
SW Pure White