It's nearly Christmas!! I wanted to chat about one of my favorite collections. My Santa mugs.
I inherited a love for vintage pottery Santa mugs from my mother. ? Growing up, my mom had hundreds of these little Santa faced mugs, pitchers, and cookie jars all around our home during the Holidays. Some belonged to her mother (my grandmother).
It's sorta funny how the collection began for me.. many of you know I'm a picker/flipper/vintage dealer (whichever you wanna call it). During my early days , when I ran across a Santa mugduring my picking adventures I had to buy it because I always got the sensation my mom would otherwise somehow find out I passed up the opportunity. You know what they say, momma has eyes in the back of her head! ?
I love the jolliness of the Santa faces. ?? Also, the vintage bright red screams Holiday cheer.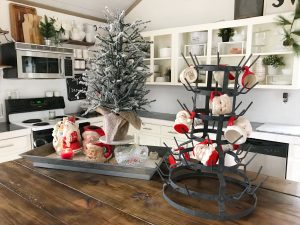 Where you can find  –
So it's taken me a little over a year of collecting (at a very selective price ?) to find the mugs I have. A few times I lucked up and found the mugs i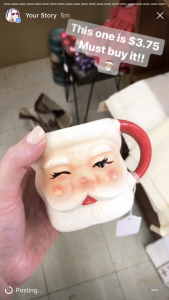 n pairs. If you ever find the mugs with the matching pitcher, you've REALLY hit the jackpot!??
Often times I've found these mugs at antique stores but you're not guaranteed to get a great price. I would say anything under $4.50 a mug is really good! At the beginning of December I found a set of two mugs for $3 at an antique store. ? With that being said, if you spot one at an antique mall ALWAYS at least check the price because you might just find you a steal of a deal!
Speaking of a steal of a deal, the best place to find these beauties for the BEST price is the thrift store. They can be harder to find at a thrift store but they're much cheaper. In fact, I've found several for fifty cent a piece. Of course, I was thinking GIVE ME ALL THE SANTAS at the price. ? ? ?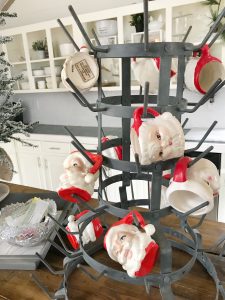 When you can find –
Shhhh, I'm giving one of my secrets. ? You'll find the best prices during the off season! Look for these mugs all through the year. If you spot one at Goo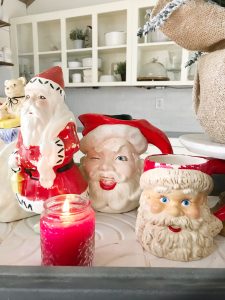 dwill during July, grab it! March – September is likely when you'll find the best price.
Annnnnd if your really desperate, Target had some adorable new Santa mugs in their Holiday decor section. ?
Alright, so that's what I know about Santa mugs! If you find any, be sure to share a picture with me!!
Merry Christmas!!
Karlee Bowman 
(P.s. – Here's a snapshot of part of my mother's Santa collection)