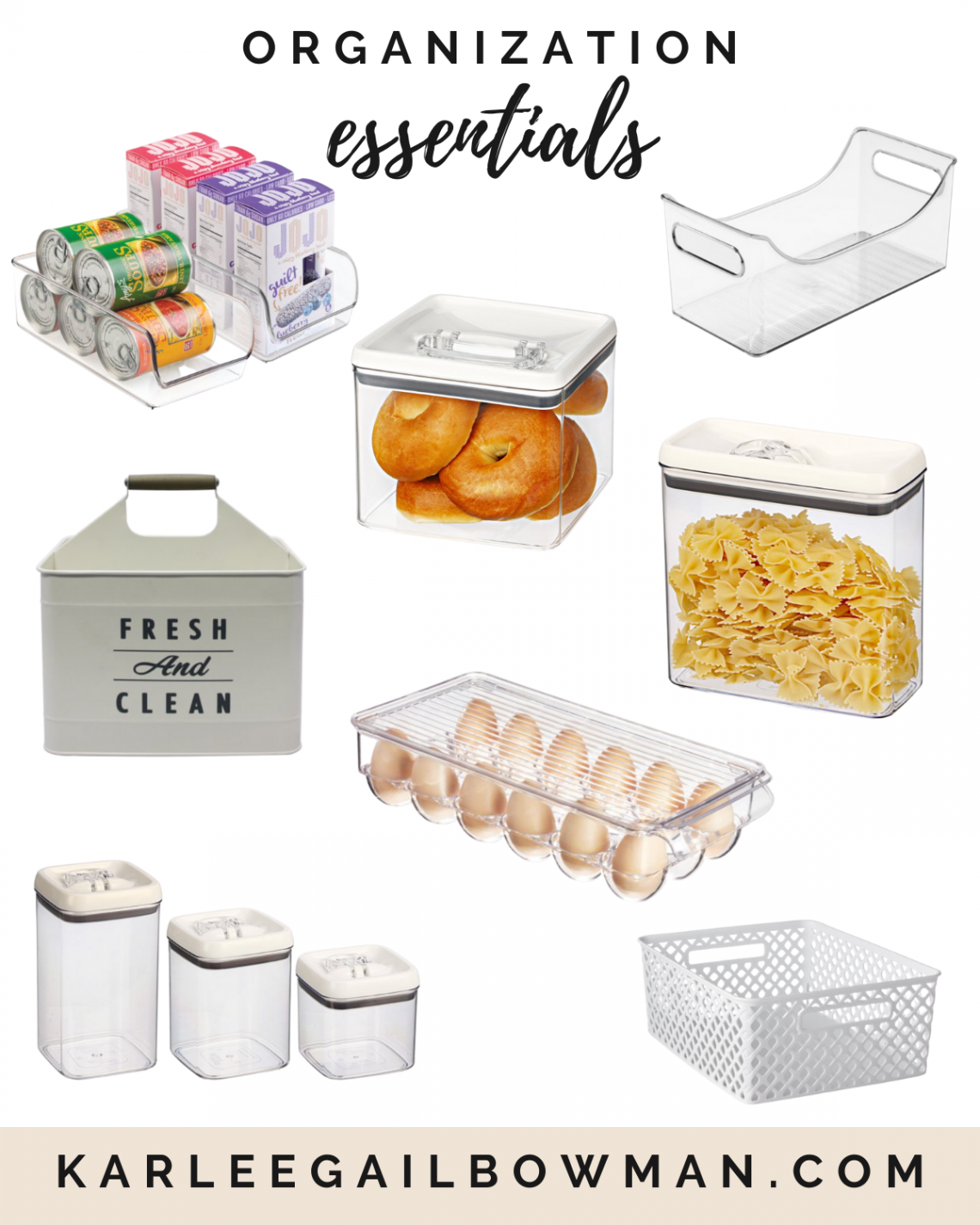 Kitchen Organization Essentials
ORGANIZATION BINS (SET OF 2): I love these clear containers for the fridge! They are also stackable and come in a set of 2. We keep our drinks in them in the fridge, and even snack bars in the pantry cabinet. These are perfect for so many places.
BAGEL CANISTER: I never knew there was such a thing! It's genius, don't you think? This food storage container by Better Homes & Gardens is perfect for keeping your pantry and countertops clean.
METAL LAUNDRY BASKET: This laundry caddy has a large compartment and can hold , standard spray bottles and cleaners and small compartments are great for sponges, brushes, gloves, and rags.
EGG HOLDER: This egg holder provides a safe, convenient storage place for eggs! The clear, durable plastic construction allows you to quickly see how many eggs you have on hand which I personally love.
FRIDGE CONDIMENT CADDY: This storage container is a great addition to any fridge. Easily store all your condiments in the refrigerator and when you need them, quickly transport the whole caddy with the built-in handles.
3 CANISTER FOOD STORAGE: These storage containers are BPA-free, clear containers that make it easy to see whatever is inside. They are also super sturdy with easy to open lids for under $15!
RECTANGULAR FOOD STORAGE CONTAINER: Keep your food fresh with this Better Homes and Gardens container. Great for your kitchen or pantry, this food storage container can hold up to 11.5 cups. Ideal for storing pasta, cereal, and other dried goods.
DECORATIVE STORAGE BASKET: This one is great for storing all kinds of household items and definitely helps keep your home more organized. It's also constructed with two sturdy cut-out handles to make transporting stored items easy!