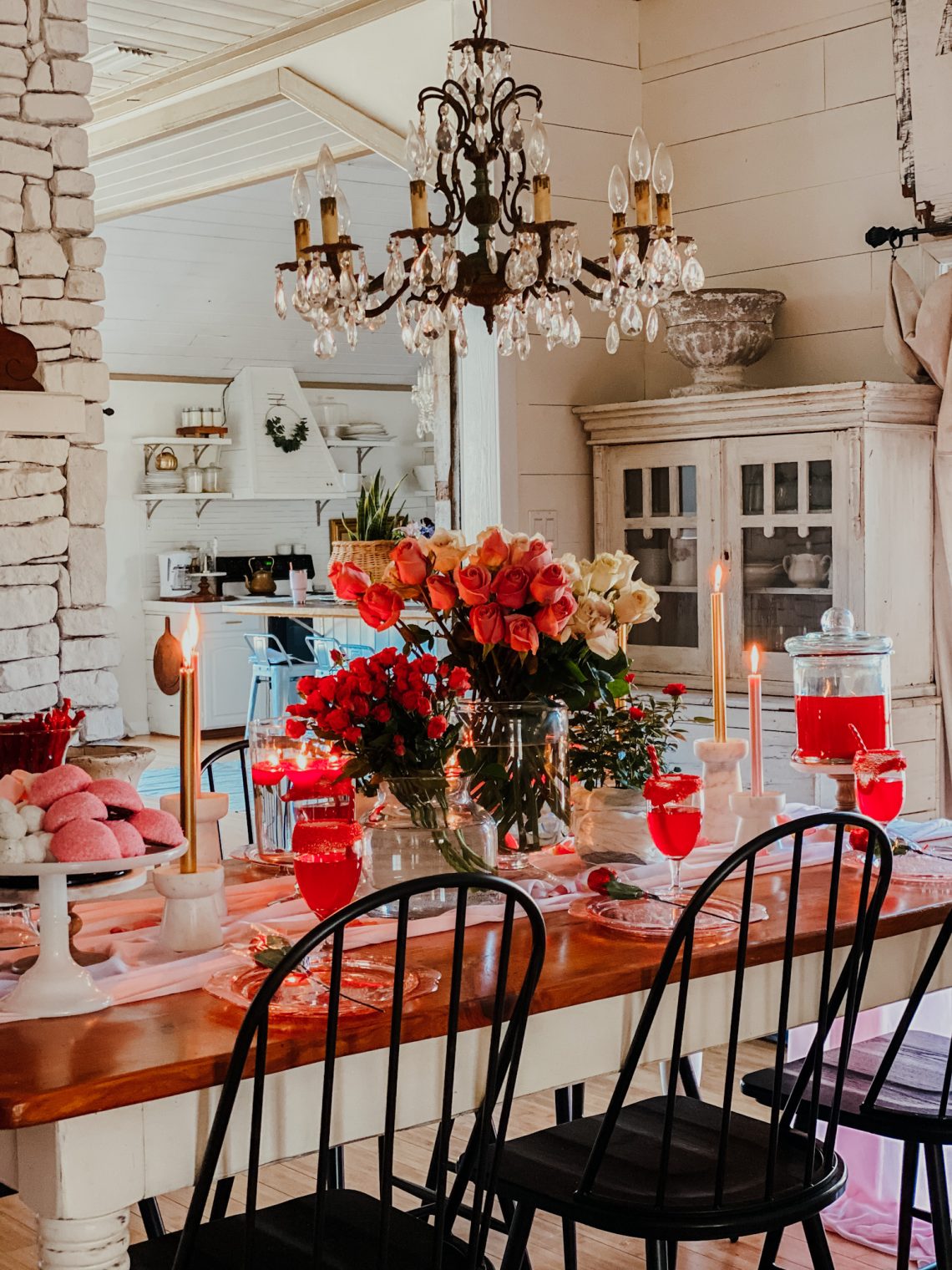 February, also known as the LOVE month, is finally here! One of my favorite things about Valentine's Day is creating a beautiful tablescape to go along with the holiday! It's so fun to put together little details for your family and guests to enjoy. 
I started with a runner. I used about 4.5 yards of pink chiffon that I bought from a fabric store. I'm a fan of using fabric or chiffon as a runner because so many "typical table runners" are too short. I love how this one drapes over to the floor making it a bit more dramatic and flowy!
I added large glass vases (already had the vases)  of roses and floating rose candles. The roses are an antique white and pink. The floating candles are red roses! I also added a few more mini rose plants. I wrapped the bottom in white gauze fabric. Next I added pink and gold taper candles.
I used the depression glass my grandmother gave me a few years ago. These plates belonged to my dad's great aunt, so they're always special to use. I used my go-to glass goblets which I honestly use for most family gatherings because I love them so much. We have about 30+ of them and they're a MUST in our home. I glammed them up a bit with a red rim for a Valentine-friendly effect! I also cut the ends of a twistler and made a straw! I always think it's so fun match the beverage with the season/colors! Also, on each plate is a chocolate rose because… why not?!
Next I added a few desserts and sweet treats to the end of the table. This is the time to bring out all those cute cake plates and platters! 
I hope this table inspires you to grab those you love and enjoy a special meal together! My hope is for you to be inspired by an idea or two from this and create your own table to enjoy! Shop my Valentine's Day tablescape below!
CLICK ANY ITEM BELOW TO SHOP: