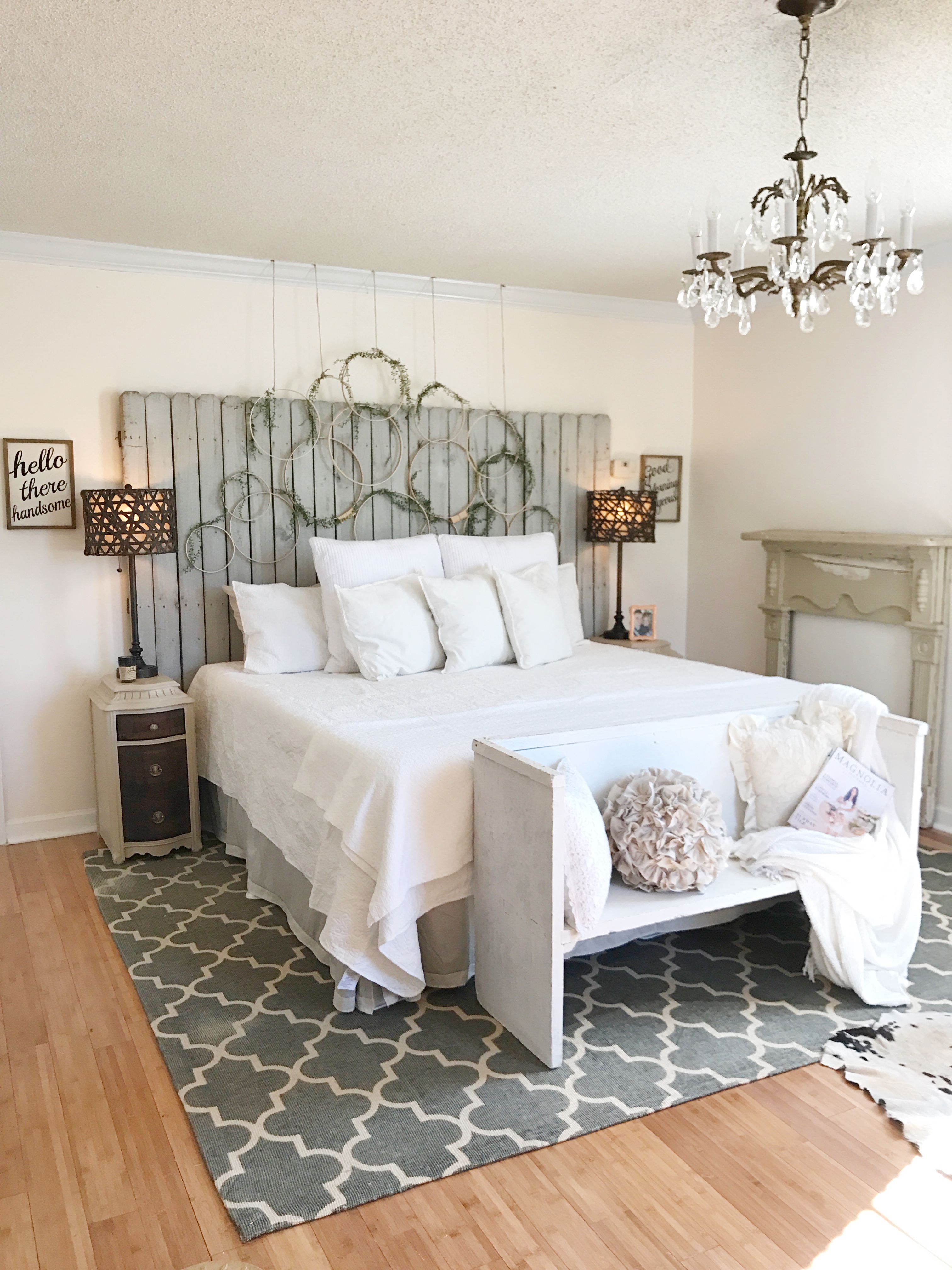 Broke and Needing a Headboard
The beginning of my relationship with Aaron happened quick. Between a 4 month span we had some very exciting events happen in our life –  engagement, purchased our first house and got married. What this translates to –  we bought (well, mainly he bought) an engagement ring (which he did a killer job designing? ?), a home (which was completely broken?), wedding bands and wedding expenses.
Keep in mind, when we bought our home the power among many other things did not work. Did I mention vines were overtaking the entire structure?!?! ?
Well, we closed on the house, our wedding day had passed and my sweet farmhouse felt empty. The walls, cabinets and floors felt empty and this situation made for a very overwhelmed new bride.? Our budget was slim due to all the expenses over the past few months.
I wanted a headboard. Was this too much to ask?!?!
Yes, it was too much to ask when nearly every square foot of our new hardwood floor was bare. Have you priced rugs recently???
I knew if I wanted something over that bed as a headboard, I would have to get creative. I was staring at our bed (feeling so sorry for myself ?) as my new husband was outside taking down an old rustic privacy fence.
So, I started thinking.? I'm nearly positive this moment was the first of many times Aaron thought I was crazy. I ran outside and explained how we could use the old fence as our headboard.
Aaron said let's give it a try. I grabbed one side and he grabbed the other we marched that beauty in our room and ended up loving it! ? Best of all – no one else had a headboard like us. It was completely unique.
I wrote this blog to encourage you. Sometimes we feel lack of money brings limitations but really it just demands us to be more creative. This type of creativity is perfect because it tells your story and makes your home unique.
We are now at a place I could purchase a beautiful headboard. Trust me, within my line of work I have plenty of opportunity. However, our old fence headboard is a constant reminder of how far we've come. It also reminds me to never lose the art of creativity. ?
What can you repurpose?