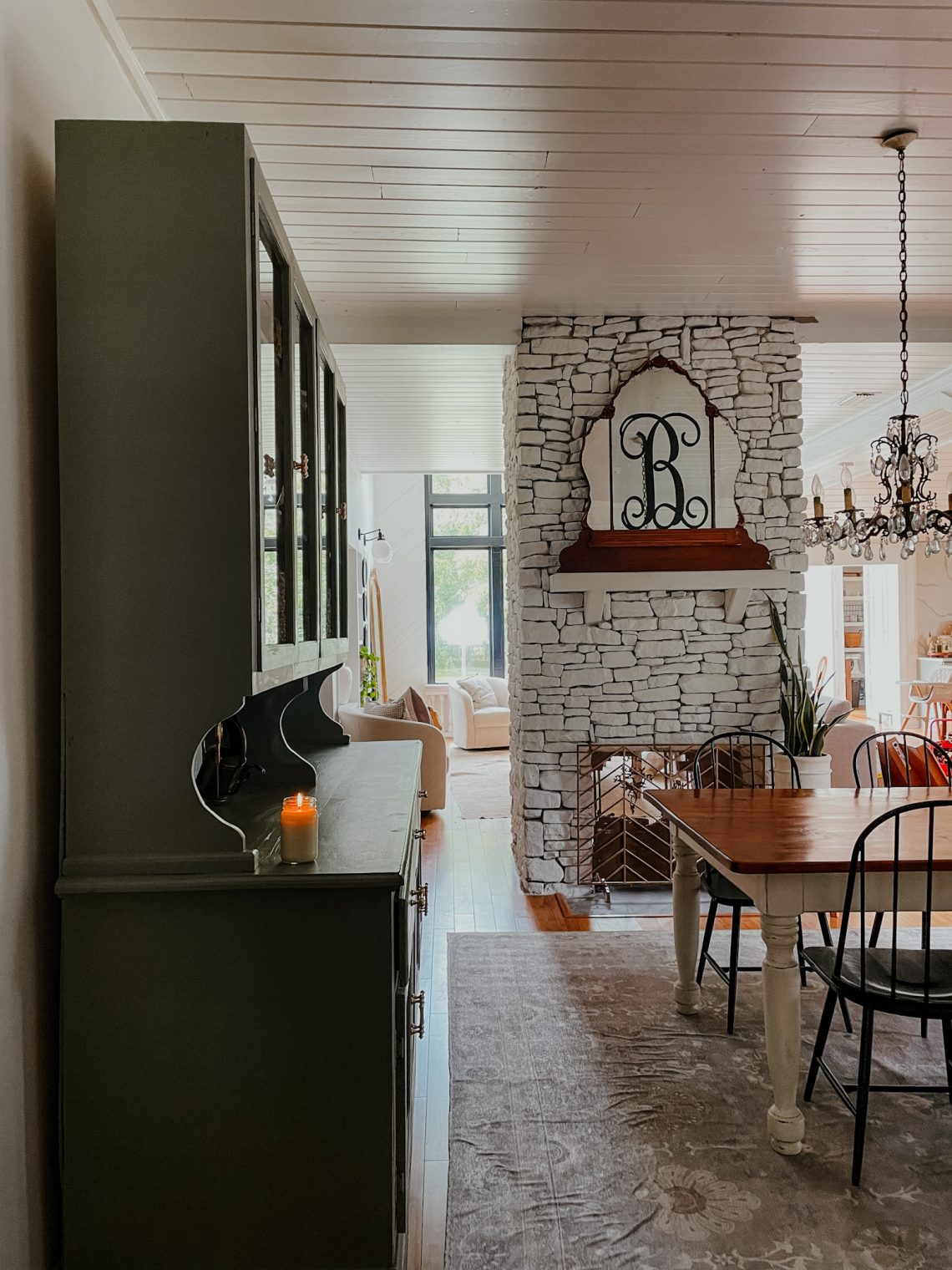 5 Tips for Styling a Cabinet/Shelf
Basics of Cabinet
I bought this cabinet at a local thrift store almost a year ago. I paid $350. It's handmade and approximately 10 feet tall. It's huge! 
Finally I painted it. I used the color Bellwood by Fusion Mineral Paint. It took two 16.9oz jars to complete this paint project. To protect the paint I added a coat of tough coat on top of the paint. This step basically made a hard shell over the paint to protect it. I was very impressed by this product! 
Next I changed out the hardware! Changing hardware on a piece can really make such a big impact! (Tip – to change out hardware, open the drawer/door and measure from screw to screw.. That's how you know what size hardware to order!)
Then I added some bells and whistles! Really, I actually did add an old brass dinner bell to the side of this cabinet! I love the character it brings and after all, this cabinet is in the dining room! And I attached a brass Ikea rod with S hooks underneath the glass cabinet part. Perfect for hanging little decor items and a watering can!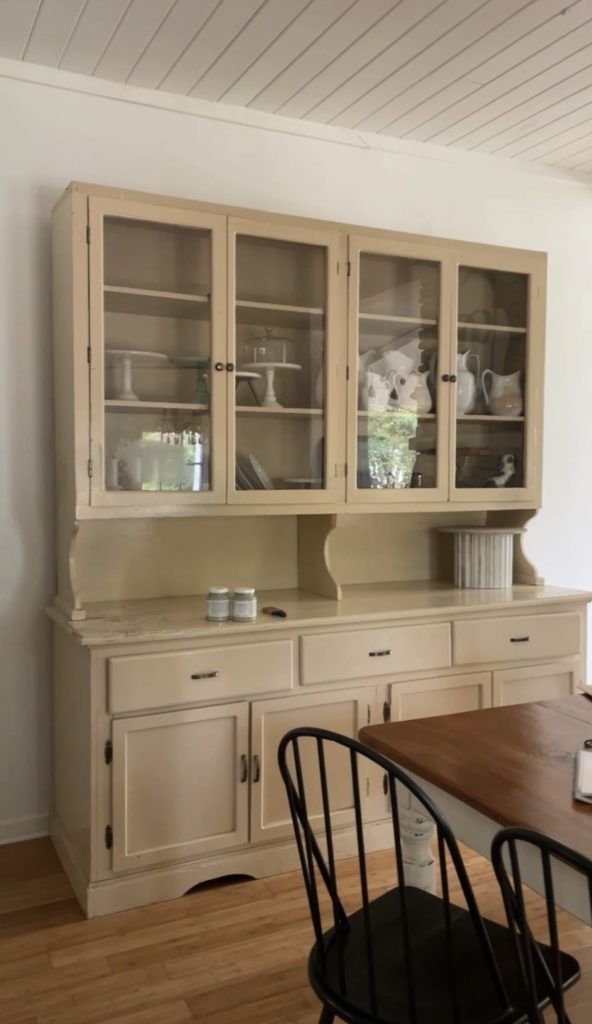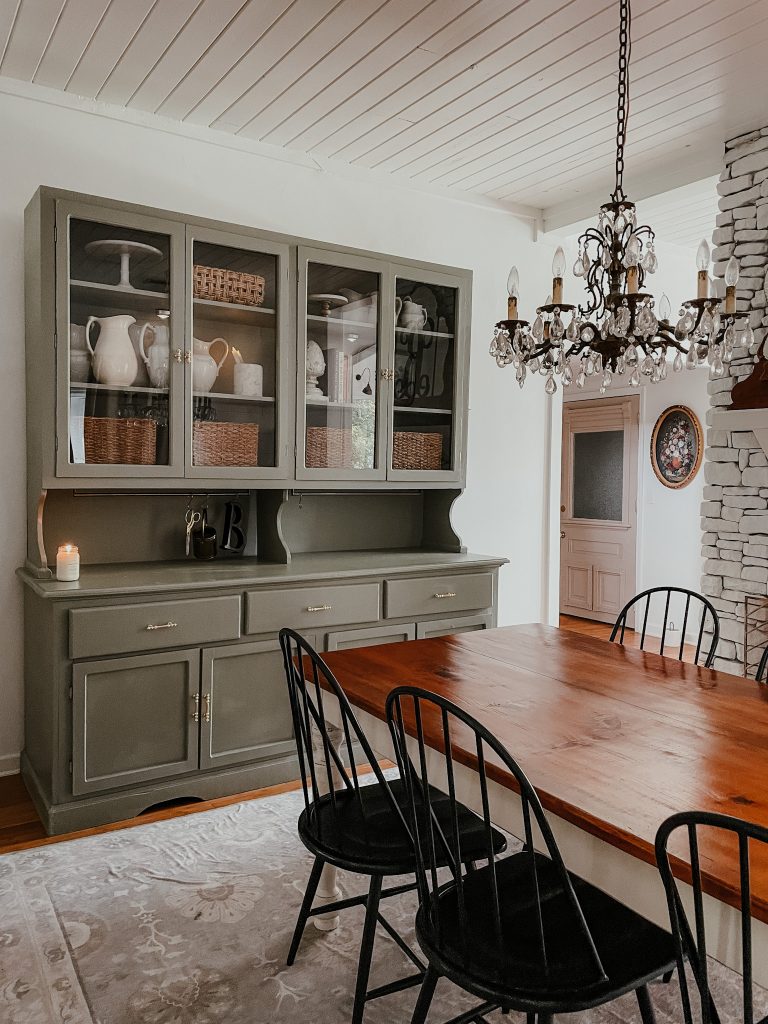 5 Tips for Styling a Cabinet or Shelf 
These are my five go-to tips! In this case, I'm using them in a cabinet but all will work for shelf styling also! 
1- Start with books
It's absolutely basic but don't overlook books! Use antique books, novels, cookbooks, or interest books! Here, I grabbed a few design books. It can be overwhelming to style a shelf. Books are a great place to start! 
2- Add unique bookends
On this cabinet I used two different style finials I found at an antique store. One is concrete and tall and the other is metal and short! Using items that aren't intended books ends adds character! Look through your home and garden! You likely have an awesome bookend or two!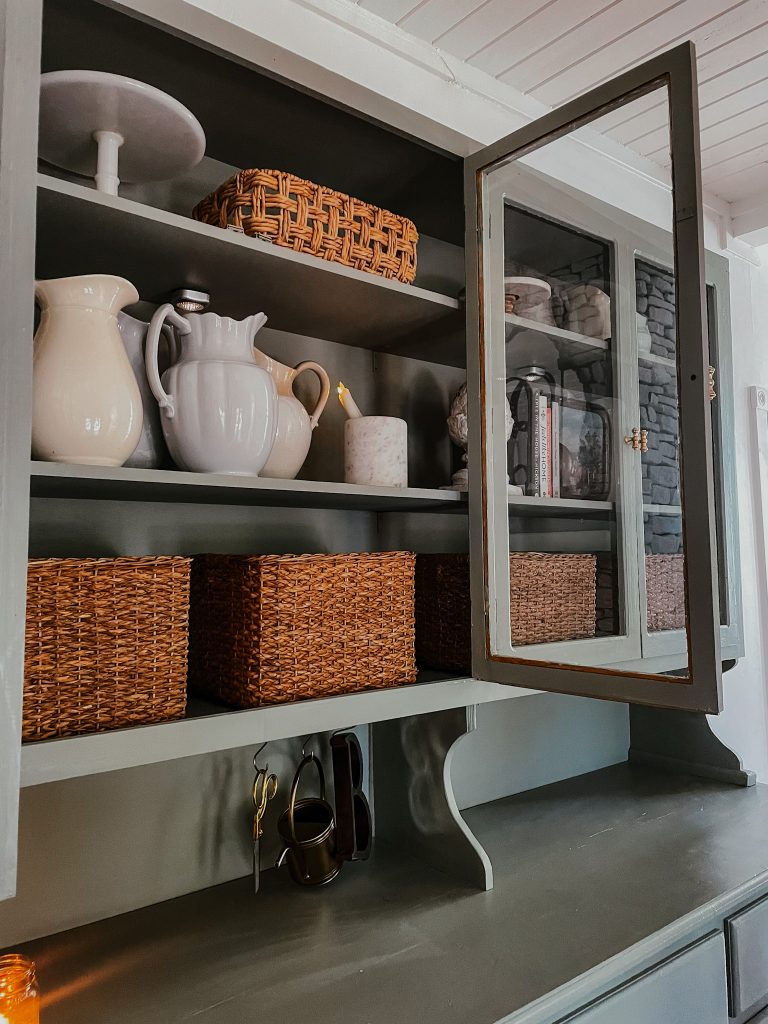 3- Throw in baskets
Baskets are ancient and timeless. They're pretty and practical. Be sure to throw in a basket (or five)  on your shelf. They make for great storage and add amazing texture to a space! I have four identical baskets on the bottom shelf. I love the uniform look of having identical items! Especially in a space like this where there's a lot going on! I added another basket on the top shelf to the left! This is a different texture basket and is perfect for holding my essential oils info! Storage and texture – can't go wrong with that combo! 
4- Hang a picture
A shelf is not the first place we think of when displaying art. But adding tiny artwork to a shelf or cabinet can make the space come to life! Again, the artwork adds interest to the space. I used a brass hook to attach mine to the backing of this cabinet.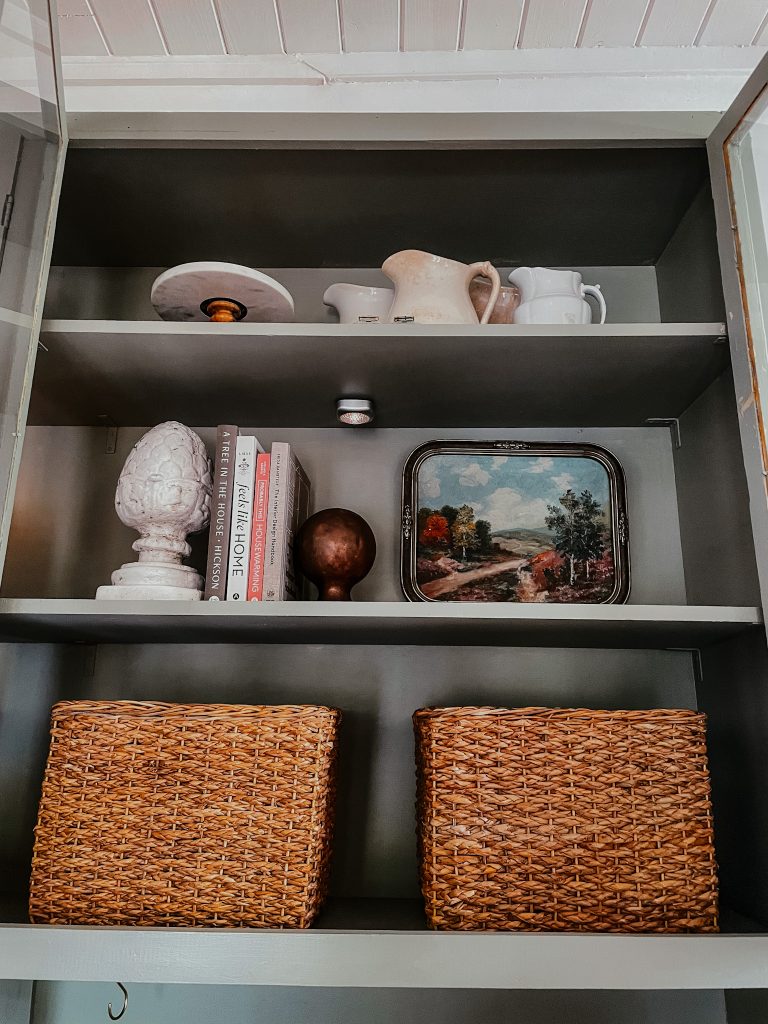 5- Create magical glow
I love the glow of a candle but most of us were taught from a young age, it's not safe to burn a candle on shelves! The shelf above could catch fire! 
I still want a warm glow on my self so I added a vase of battery candles! 
Also I stuck on a few cabinet lights to highlight some of my collections! 
Using these tips you'll have your cabinet/shelf styled in no time! 
Links
Hardware
Brass Dinner Bell
 Basket (bottom shelf row of 4)
Battery Candles 
Tiny Art