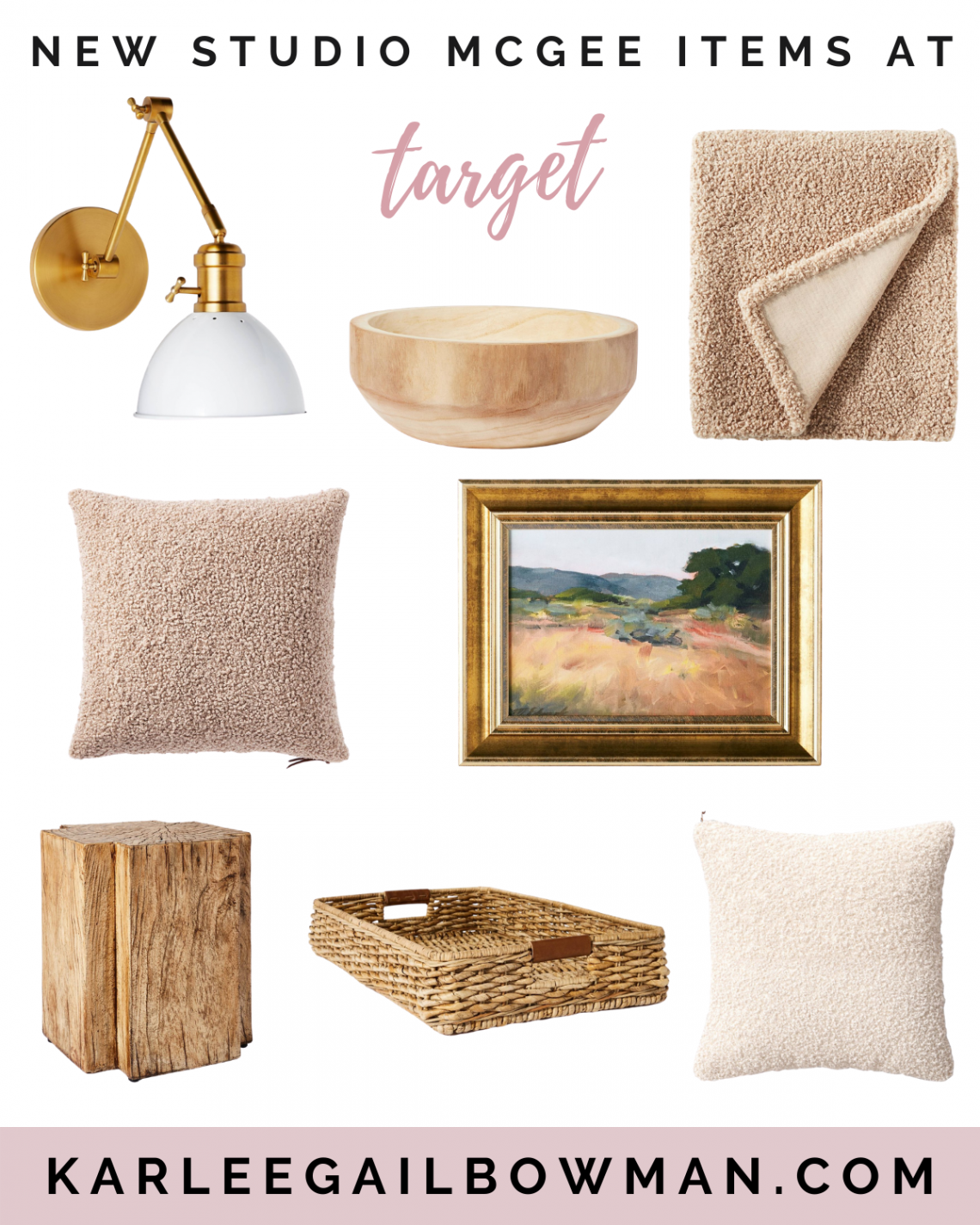 Studio McGee Collection At Target
Taupe Throw Blanket: I'm in love with this cozy throw blanket. It makes a great layering accessory for the cooler months and the neutral color goes with everything! It also comes in a beautiful cream color and rust perfect for fall.
Banana Leaf Woven Tray: This gorgeous tray makes a functional and decorative accent piece for any room in the home. I personally have mine in my living room and it can fit so many different things. I love the leather handles on both ends giving it that extra touch.
Throw Pillow: These square boucle throw pillows come in the same colors as the blanket featured above. These come in three different sizes including square, oversized square, and oversized lumbar (rectangle). They have an exposed zip closure that gives off a chic appeal and neatly secures the insert. I've already snagged a couple of these myself!
Wood Bowl: I love the handcrafted look of this unfinished wooden bowl. It gives off so many rustic farmhouse vibes! The light-tone wood complements both neutral and bright color palettes making it the perfect fit to any room. I have a very similar one on our built in shelves that I've never been able to link until now!
Framed Wall Canvas: How gorgeous is this landscape wall art?! If you know me, you know I'm a sucker for anything in a gold frame with warm hues. This 11″ x 14″ painting would look beautiful on any shelf or wall you have in your home.
Metal Dome Sconce Wall Light: There is absolutely no hardwiring required for this sconce and it already comes with an energy-efficient bulb! I love the unique hinged arm for easy angling. This chic wall sconce features a white metal dome shade set on the end of a hinged arm that extends from a round base plate.
Stump Accent Table: This faux stump is suitable for both indoor or outdoor spaces! It's designed to look just like a tree stump, complete with intricate wood-grain detail along the sides and tree rings on the top. Place it next to a couch or chair to hold a lamp or on its own to display a potted plant or other decorative items.