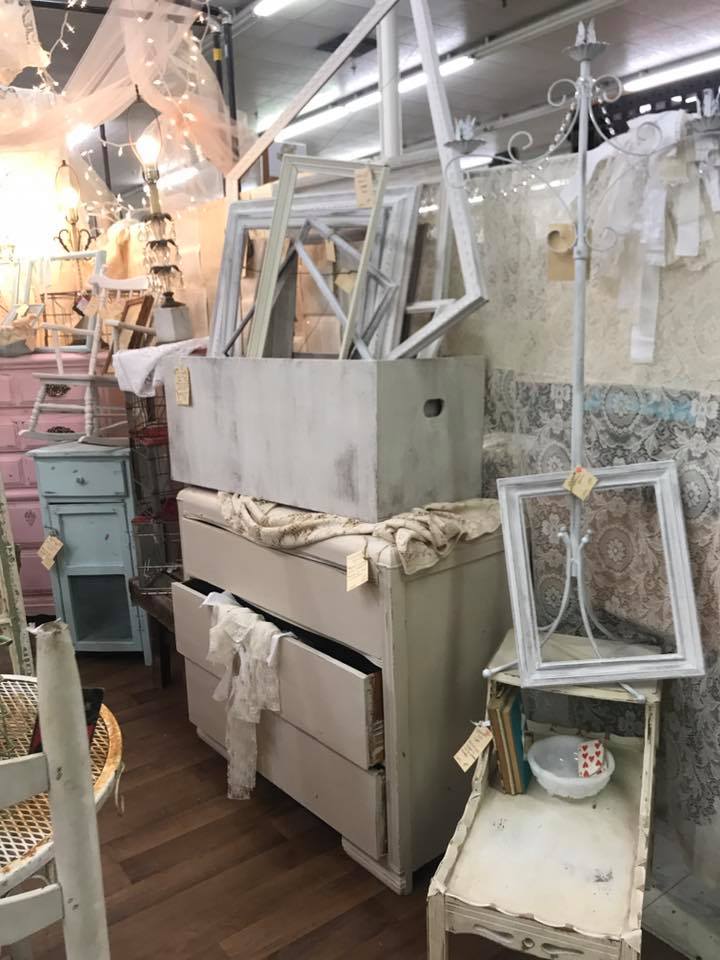 5 Secrets From the First Year of my Vintage Booth
Well, this one year booth anniversary is really inspiring me to write. Last night I posted  a blog called My One Year Booth Anniversary.. Ha, I might turn this into a "mini series" of post! ? Also, I want to say THANK YOU for all the positive feedback I got from the blog post last night. Apparently y'all like reading about pickers, flippers and vintage junk!!
Today I want to share 5 secrets I've learned in my first year of having a vintage booth! Hope you enjoy!! ?
1- Utilize Every Inch
Space in an antique mall isn't cheap, so use every inch wisely! ? I try to display my items in a stacked sorta way! For instance – If I'm sellin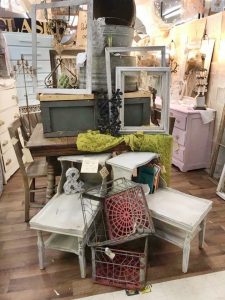 g a kitchen table, I'll stack a side table on the kitchen table then add a wooden stool to the side table. Before you know it, I've stacked three pieces. My favorite way to display is vertically. ? This trick also draws attention to our booth!
2- Don't be Afraid of Little Items
I aim to stock under $5 items at all times. ?? These are the items that keep your customers coming back. The goal – No matter when their payday is they can afford something adorable. You would actually be surprised at how those small items add up at the end of the day and you'll have a customer that remembers your booth next time.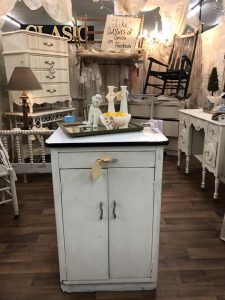 3- Always Have Extra Pieces
If you have a full booth, you still need to be picking because your full booth could empty in one Saturday afternoon. Again, the real estate of an antique mall is high, so you don't need to have an empty space in your booth for long. Empty space equals empty $$$. ?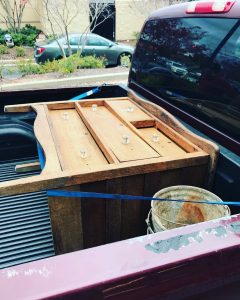 Also, there have been times when the picking is bare and you can't find anything good. We live in a college town and the students love to buy vintage pieces in August. That's great.. However, this situation means every other picker in my area will be selling out and looking for more. The picking will be bare. It's June and I'm already putting pieces aside for August.
4- On the Other Hand Rejoice When it Sells Out
Here's a tip I recently learned. I had a high selling May and completely wiped out my stock pile! I began to panick. ? I would buy more, display it in my booth and the next day it would sale. I was on a true role. I expressed how concerned and overwhelmed I was to Aaron and he said I should be happy. He explained, if I've sold everything in my booth and in my back up stock, I've reached my highest potential and I should be happy. ?
I was caught up in having my booth full around the clock and I failed to rejoice that I had reached my highest potential. Tip – Hustle your brains out but don't be too hard on yourself. ??‍♀️ You cannot do the impossible.
5- Rearrange At Least Once a Week
This tip is completely proven and you'll probably not make it in the antique industry if you don't do it. Rearrange, Rearrange, Rearrange. If something big sells, rearrange. If nothing is selling, rearrange. If you're bringing in new pieces, heck- why not rearrange!?! ?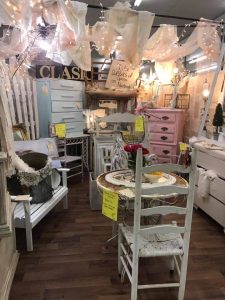 At least once a week Aaron and I completely move everything around in my booth. (Gotta use his muscles ???) This trick keeps your space looking fresh.
Example – I had a side table which had been in the booth for a few weeks. I put it front/center of my booth and it sold the same day.
Alright, so there's 5 secrets I've learned during the first year of my vintage booth!! ?