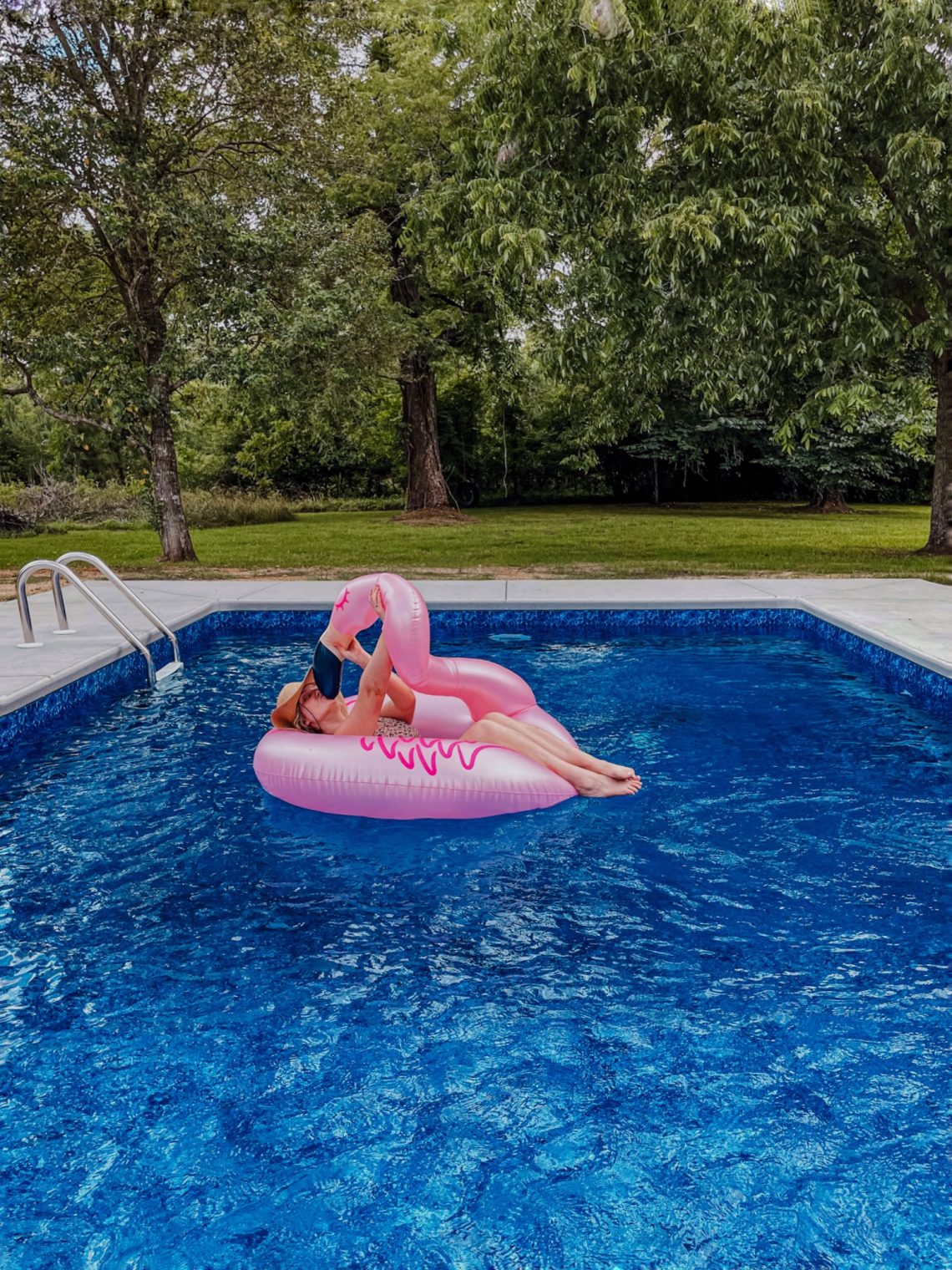 Feels like a my childhood dream came true. Well really my childhood dream did come true!  Growing up I always wanted a pool so as an adult I bought one. We've had lots of curiosity about the details of our pool – size, cost, liner, ect.. so I figured it would be good to do a blog post with all the details. 
Why We Got a Pool
Because we're teenagers at heart. Kidding. We got it because it's something Aaron and I have always wanted. We recently started a complete home remodel. Aaron has mostly handled the managing of that remodel himself. The pool is something I wanted to do for my family.  It was just the icing on the home remodel cake! 
What's the Pool Shape and Size
Aaron picked out the shape. He wanted it to be a simple rectangle. I decided on the tanning ledge. In the shallow end we have both steps and a tanning ledge across the edge. This works perfectly. Our pool isn't the largest but I still wanted a tanning ledge so we doubled it with the staircase. As far as size – we have 3.75 acres of land but I didn't want the pool to take up the entire space of the back of our house. Our pool is 14×28. Feels like the perfect size for this home. It's not the smallest option but it's not too large either. This size also kept me within budget! 
About the Liner
Our pool is a vinyl liner. The pool company gave us options for the liner color. It was recommended we go with a darker liner. I picked Dark Prism. It's not really what I envisioned and I do wish I could have a do over with picking the liner color. 
What About Landscape and Concrete?
The pool company poured concrete the day they built the pool. We'll be adding a fence (CHILDPROOF!) and start landscaping soon. We've already started on the grass. I have a blog post HERE on what we're using to grow grass from seed! The grass is starting to really grow. That's already making a difference! 
How long did it take to have it installed?
The pool company (Hughes Pool out of Montgomery. 100% Recommend) built it in a day. They had a large team! I'm serious – we woke up to grass and by 5pm had a pool. We did have to wait a few weeks for the liner to come in. It didn't take much time at all for them to install the liner (Maybe a few hours) and get it ready to fill with water! 
More Deets?
We went with a sand filter chlorine pool. Ours does have a hardwire LED light for nightime swimming. The deep end is 6′ deep. We already have made wonderful use of it even if it's just for a 15 minute dip! 
How Much Was It?
This has been the top question. I paid $22,500 for our pool. I gave a 2k deposit the day they built it and paid the remaining balance the day the pool was completed. Do I think it was worth it? HECK YES.  
One Day!
My goal is to build a home one day. My plan is to buy land for our family and then build a home. No doubt – we'll build another pool! I sure hope you enjoyed this post! Thanks for dropping by!!